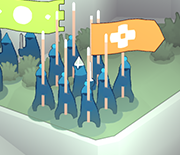 Pikes are the second type of melee unit class you can have. They excel in holding positions and defending choke points against all sorts of enemies, as long as these enemies don't have any ranged attacks. They perform especially well when defending downhill. They are however vulnerable to ranged attacks of any kind and sometimes they face in the wrong direction when they prepare for an enemy to attack them, although another enemy unit may be closer to them already. They will usually turn around right before attacked, though.
Pikes can, however, not fight at all, if they are currently moving while being engaged! Make sure to have them stationary and prepared when the enemy attacks them.
They can be upgraded to the levels 2 (12 coins) and 3 (20 coins) which upgrades their damage, and ability to hold a position even against large hordes of enemies, which is easily noticeable. At level 3 they will rarely stop defending until every unit in your squad is dead making them very effective in holding a chokepoint.
Pikes' unique ability is Pike Charge.


Strengths
[
]
Perform well against any type of melee enemy, as long as the pikes themselves are not moving.
Holding choke points (small openings) and defensive positions.
Especially strong when defending downhill.
Pike Charge effective against long stretches of terrain against nearly any target. Leveled up charges expand from 3 square movement to unlimited. Charge attacks will not hurt allied units.
Weaknesses
[
]
Can't fight when moving.
Must be set-up before your enemies arrive or are close to be effective.
May face the wrong direction when they brace for an enemy attack although another unit is nearer (Usually turn around right before being attacked.)
Vulnerable against ranged attacks
May be overwhelmed when charged by too many enemies at once and will run around the defending tile vulnerably. (When defending downhill at a chokepoint this will rarely happen). - "Ironic!"
Recommended traits
[
]
Sure-Footed - pikes can stand where ships park without breaking their formation
Skillful - charge skill is versatile and can be used in most situations
Energetic - charge skill is versatile and can be used in most situations
Heavy Weapons - can benefit in chokepoints where the knockback can help hold their position or knock enemies into the water
Recommended items
[
]
Mines - used to cover areas where they can't guard simultaneously, enemies that survive the blast are stunned and can be killed by pikes if re-positioned near them
Warhammer - can be used to cover for pikes when they can be overwhelmed, enemies that survive the hit are stunned can be killed by pikes if re-positioned near them
Bomb - can be used to cover for pikes when they can be overwhelmed, enemies that survive the hit are stunned can be killed by pikes if re-positioned near them
[

]
*Source: http://badnorth.wikidot.com/pikes